H U M A N  F O R M
Full Name: Oliver Scott Dixon
Nickname(s): Ollie
Genitals of a Male
19 years of age ( His physical appearance, hes really 3 years old)
Was born lycan in 2015
Appearance of Dustin Mcneer
Species: Lycan
Sanity: 97%
Injured: ()
Ill: ()
_____________________________________________________________________________
C H I L D H O O D
Oliver was born not too long ago (It is currently 2018) his mother had passed away a couple days after he was born, and his father Elijah has no idea he exists because they had split up during her pregnancy. He aged so quickly because of his "disease" and stopped aging at the age of 19 because he had finally shifted. Though growing up he was best friends with David, the two were like brothers and they always had each others backs. Oliver thought his foster parents were his real blood, and they were such alcoholics, especially the mother, and the father would always beat the crap out of her, while poor Ollie had to try and save his "mother" though he knew he was different because of his enhanced strength, hearing etc and him aging so quickly frightened him.
A D O L E S C E N C E  A N D  P R E S E N T
When Oliver shifted and stopped aging he fully understood what he was, and he had learned that his foster parents weren't really his parents, he now knows his mother had passed and hes aware that his father is still alive. With this information he resides in Blackfyre forest, not too far from where Elijah lives in Ensley. Oliver lives on his own now, going to school with his buds to try and at least fit in.
_____________________________________________________________________________
Gifs and Pictures
_____________________________________________________________________________
Relations
Sexual Orientation: Bisexual
Good at sex? Obviously
Has had sexual relations with: People
Friends with: Lucifer Blaze, Caleb, Logan
Best friends with: David
Sexually attracted to: David, lowkey
Annoyed with: Lucifer, Logan
_____________________________________________________________________________
Blood Parents
His Dad
The one and only Elijah (Evan Peters)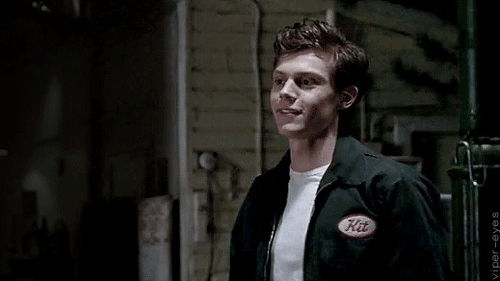 His Mother
Felin (Deceased, aka left the group)
(Evan Rachel Wood)
_____________________________________________________________________________
Lycan Form
Quad Wolf
(White One)



Posts

: 4


Join date

: 2015-09-12





Similar topics
---
Permissions in this forum:
You
cannot
reply to topics in this forum